Experienced Global Executive Brings Strong Background in Online Marketplace Operations
Norfolk, VA (October 13, 2022) – Trader Interactive, the parent company of leading online marketplaces in the lifestyle vehicle and commercial equipment industries, announced today the appointment of 20-year global executive David McMinn as the organization's new chief financial officer. McMinn succeeds Charles Goodwyn, who is retiring after 22 years with Trader Interactive and its predecessor companies, Trader Publishing and Landmark Media Enterprises.
 McMinn most recently served as Chief Operating Officer of Trader Corporation, playing a pivotal role in transitioning that company's Autotrader business from a publishing print business to become the #1 digital automotive platform in Canada. His background also includes senior leadership roles in sales and operations with the Trader Media Group in the UK, whose Autotrader.co.uk is the largest digital automotive marketplace in Europe. He also served as the CFO of Sensis Classifieds in Australia.
The appointment coincides with this month's completion of Trader Interactive's acquisition by carsales.com Ltd, the largest online marketplace in Australia with a focus on automotive, motorcycle and marine vehicles. The acquisition, which was announced in July 2021, provides opportunities for new strategic growth initiatives for both companies.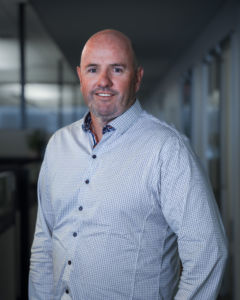 "David is assuming CFO responsibilities at a time when we are not only expanding the digital retailing program we launched but also leveraging carsales' expertise to continue optimizing and expanding the products and services we offer," said Lori Stacy, CEO of Trader Interactive. "His tenure and diverse experience in the marketplace sector make him the ideal person to lead our finance and accounting teams as we embark on these new efforts."
"I've worked with some of the top vehicle marketplace companies across several continents. Trader Interactive has a very impressive track record, great culture and is positioned very well for future growth" McMinn said. "The company is customer centric and clearly committed to being the best in the breed and I'm looking forward to helping them on that journey financially."
McMinn holds a Bachelor of Business Accountancy degree and is a member of the Institute of Chartered Accountants. His appointment is effective immediately.
About Trader Interactive
Trader Interactive connects buyers, sellers, and renters in the powersports, recreational vehicle, aircraft, marine, commercial vehicle, and heavy equipment industries through a broad portfolio of marketplaces that reach 9 million unique monthly visitors. Linked by a widely recognized family of "Trader" trademarks dating back several decades, the company's brands include lifestyle vehicle marketplaces Cycle Trader, RV Trader, ATV Trader, PWC Trader, Snowmobile Trader, Boatline, Aero Trader, and Trade-A-Plane, as well as commercial vehicle and equipment marketplaces Commercial Truck Trader, Equipment Trader, NextTruck, Rock & Dirt, and Tradequip. Among recent recognitions, Trader Interactive was coined one of the few unicorn companies in Virginia by Virginia Business Magazine. For more information, visit www.TraderInteractive.com.