Fitting In Remains a Challenge for Women Enthusiasts
NORFOLK, VA (May 03, 2022) – Female cycle riders now represent nearly 20% of the motorcycle enthusiasts in the U.S., but they still face challenges navigating an activity that has been dominated by men for decades, according to a survey of nearly 1,750 women by leading online marketplace Cycle Trader.
The survey revealed that, for women, the joy of riding is coupled with several snags in becoming full-fledged members of the cycling community. Among the findings:
Equipment and attitudes top the list of challenges. 35% rank finding gear that meets all their requirements as their primary stumbling block, while 30% cite finding the perfect bike for their bodies as their #1 hurdle. 18% say their main difficulty lies in finding community, particularly with other women who share their passion for riding, while 9% complain about dealing with discriminatory behavior ranging from rude comments from both men and women to stereotyping as "unapproachable and intimidating."
Two-thirds of respondents say bike design isn't always female-friendly. 36% of those struggling to find the right fit have the biggest problem with seat height, 25% with bike height, 26% with bike weight, and 14% with the distance to handlebars.
Gear sizes and color choices are too limited. Respondents say there are relatively few apparel options for either petite or plus-size women, helmets are too bulky and the color palette is too limited. "I can't stand the fact that the only option for females is pink," says one. "Not every woman likes pink.'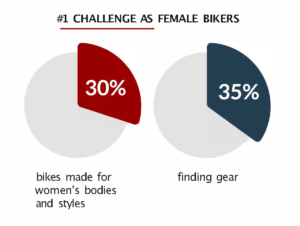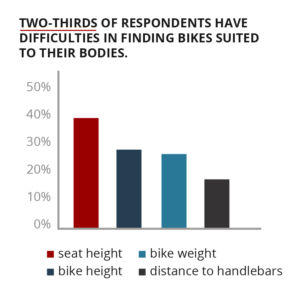 "Motorcycle and gear manufacturers have been developing more products for women as their numbers in the community have grown, but this survey shows that there still are gaps to be filled to meet the needs of female enthusiasts," said Lori Stacy, CEO at Trader Interactive. "The responses provide a roadmap for the industry to drive new sales among women who are both ready and eager to jump into the lifestyle."
The survey also found that:
More than one in four women riders are 55 or older, and one-third of those are 65+. (Who says younger women have more fun?)  28% are in the 45-54 age range, 13% are 35 to 45, 12% are 25-34, and just 4% are 24 or younger.
33% purchased their first bike in their 20s, suggesting that many are long-time riders based on the overall age cohort. The rest took the plunge in their 30s (21%), 40s (34%), 50s (17%), or even 60s (3%). Only 3% of respondents do not own a bike.
Cruisers are the most popular bike type for women (33%), followed by standard, sport and touring (15% each), 11% trike and 5% adventure. Fewer than 1% ride electric bikes.
Top reasons for riding vary from loving the open road (39%) to spending time with a significant other (17%), empowerment (10%), bonding with friends and building community (8%) or all of the above (19%). Fewer than 2% ride to save fuel or because they don't have a car.  This differs somewhat by age, with riders 18-34 using their outings as girls' get-togethers far more frequently than their older counterparts.
27% most often use their bikes for a short daily recreational ride, 22% for an occasional drive, 18% for long-distance travel, 18% for a once-a-week quick cruise, and 15% for a daily commute. Again, there are age differences. Younger riders are more likely to use their bikes for daily commutes and quick daily fun rides, while those 55 and older more frequently take their bikes on long road trips. 
About Cycle Trader
Cycle Trader is part of a unique portfolio of Trader Interactive marketplaces for buying and selling powersports vehicles, including Cycle Trader, ATV Trader, PWC Trader, and Snowmobile Trader, with over decades as part of the "Trader" family of brands. The company's mission is to bring powersports buyers and sellers together by providing dealers and manufacturers with comprehensive listing packages and innovative advertising products that place inventory in front of relevant, high-quality buyers. Listing inventory through Trader Interactive's powersports brands ensures that dealers can maximize their exposure, generate connections, drive sales, and boost profits. For more information, visit www.CycleTrader.com.